Do you know the packshot photography?
Spectacle trade follows more and more the fashion trends, increasing the need in photos. To raise your sales, pictures modeling and products digitization become key! Recently, I told you about the quality pictures influence on your clients purchase decision and I recommended you to get equipped with high quality photos to face competitors. It was in the article about the VirtualTryOn for glasses. Today, iZySolutions provides iZyPackShot: a specialized and professional equipment to you, which is able to take frames pictures from all angles from the simple picture to the 3D digitization.
So, what are you waiting for put your frames in our hands to simplify their shooting process?
With iZyPackShot, get pictures very simply!
Benefits of our packshot photography:
Get in next to no time optical and spectacle pictures of high quality that you can use on every advertising support!
Have at your disposal all your collections in photos from the simple shot to the modeling
Give a unique style to your imageries thanks to the individual and customized photo editing by a PhotoShop expert
Access to the 3D modeling
Improve your imageries quality
Create as much as you want approved and corporate identity charter imageries
Speed up your products bringing to market
Become the files owner and broaden your photos stock

Our offer according to your specific needs:
E-Business


We offer you the shot of your frames so then you can highlight your products in your electronic catalogs and/or on your ecommerce platform.
Print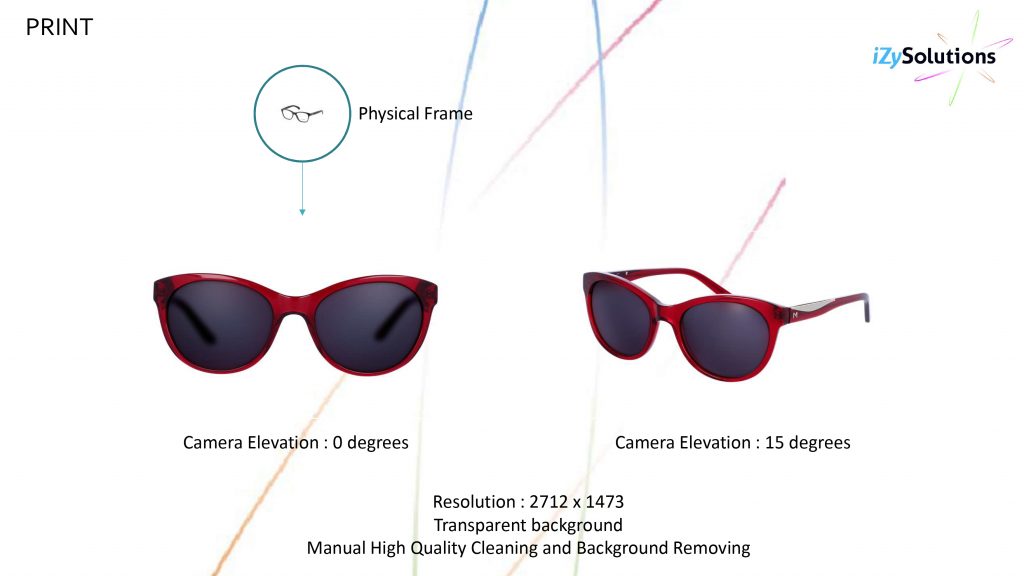 Differ from your competitors thanks to your frames shot from all angles and get set up imageries, for instance: frames with fold away arms or with a particular angle.
Furthermore, each photo is reworked with PhotoShop for an optimum quality.
Virtual Try On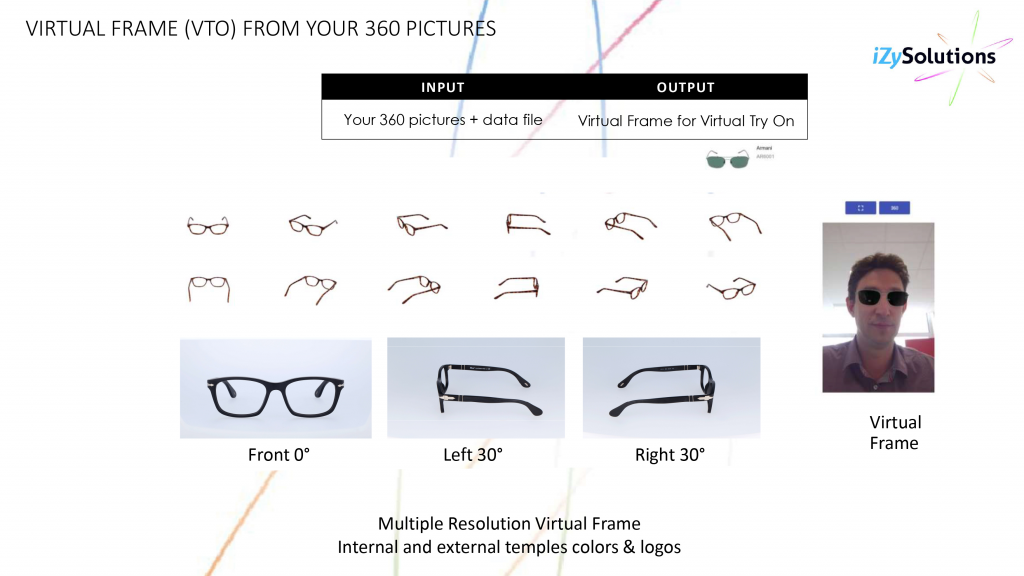 Get to the modeling of your frame in 3D!
Raise the conversion rates of your potential customers thanks to the 3D vision interactive renderings.
One of the pros? With our photos, you can digitize your frames and offer the Virtual Try On (see below).


The pros
Coupled with iWiCatalog, create your electronic catalogs with your imageries.
Coupled with iZyWebShop, update your ecommerce website (360-degree views of your frames, virtual try on…).
How does our photography shot solution work?
You send us your frames
We shot them
We record your items and renderings
You confirm the imageries
Then, we give back your frames and photos ready for use 🙂
Our iZyPackShot solution in video: