The main reason for opting for an optical EDI catalog is saving time!
For lenses, contact lenses, frames and accessories suppliers, it is very important to easily generate their products catalog to their opticians' clients, so they can quickly find all informations they need in one click.
An optical EDI catalog must be able to directly input all suppliers' data in opticians' software, whatever the technical and country standards.
Optical EDI catalog and formats of destination
For instance, you're a glasses manufacturer in Swiss and you have clients who use Swiss optical softwares but also French optical softwares. Your optical EDI catalog must be able to input your data in SF6 format for Swiss clients and in Optimeyes or OPTO11 format for French clients.
Even if your first inputs are manual in the optical EDI catalog, the main advantage is that you could easily correct mistakes directly in the catalog at the next update if necessary, and it would be automatically spread in all your clients' softwares 🙂
This is the end of manual inputs at each transaction and so the end of potential "human" mistakes!
Optical EDI catalog and beyond!
Your products data are now automatically synchronised with all your clients information sytems, great! But what if you could sell and send them directly from a webshop which would be linked with your catalog EDI? It will be just AMAZING, no?
That's technically possible. At iZySolutions, we have an optical EDI catalog solution called iWiCatalog that you can couple with your own webshop if you already have one or with our web shop solution called iZyWebShop.
iWiCatalog is more than a software you can use to manage your EDI catalog! You can also use it as a PIM – Product Mangement System: you input all your specific data and interface them with all your information systems (ERP, website, operational IT systems, partners IT systems…).
iWiCatalog in a short video:
And why would you opt for iZySolutions to work with?
1/ iZySolutions is the European leader in software solutions and service offerings for players of the optic industry.
2/ Our solutions are very easy to use, no matter if you are a technical, marketing or sales profile!
3/ One of our strength is our product support and customer service: whatever you need, we can help or develop it for you!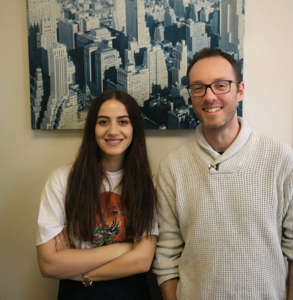 "Whatever you're an expert or a beginner on iWiCatalog, whatever your request is about a bug or a new feature, our support team (see picture) is at your disposal.
iWiCatalog is intuitive, it will allow you not only to easily create your catalogs to opticians, retail chains or international groups but also save your time!"
– Sonia and Freddy from iWiCatalog Support Team
You want to know more about our optical EDI catalog or other services we offer? Feel free to contact us!